EVERYTHING YOU NEED TO KNOW ABOUT AIRSOFT EVENTS
 SB Paintball currently does NOT stock ANY Airsoft equipment or supplies. Please come prepared.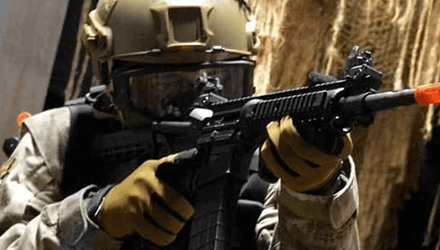 While we don't specialize in airsoft, we do welcome airsoft events at our facility!
We do not stock any airsoft supplies, please come prepared
WEEKDAY AIRSOFT
Flat rate
All 3 Fields
Monday – Thursday
8am – 4pm & 8pm – 10pm
WEEKEND AIRSOFT
Flat rate
All 3 Fields
Friday – Saturday
8am – 12pm & 8pm – 10pm
CANCELLATION POLICY
SUMMARIZED CANCELLATION POLICY
Written in easy to understand English!
Reservations of less than 20 players are eligible for a full refund for cancellations or changes made 24 hours or more before your scheduled start time, most reservations can be rescheduled instead of canceled to avoid last minute cancelation fees. Up to 30% of your booked players can "no-show" on the day of your event without penalty.
Please make any changes 24 hours or more before your event to avoid any unwanted fees
Further details listed below