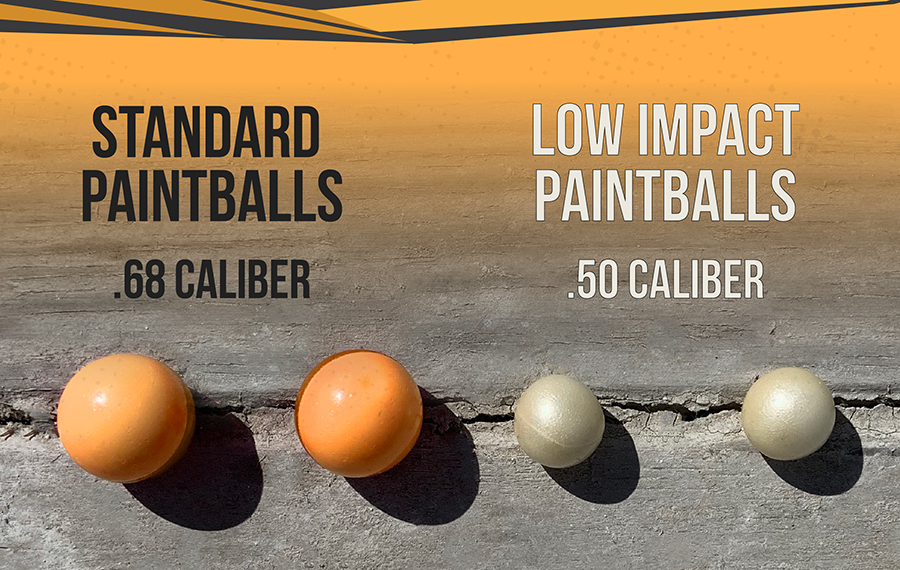 Did you know there are two different sizes of paintballs?  Most people are familiar with the standard size paintball (.68 Caliber), but there's actually a smaller size too!  They're known as our Low Impact Option, and they're perfect for all ages and skill levels!
What Exactly is the Low Impact Option? 
Well, to put it simply, they're a smaller sized paintball gun that shoots smaller paintballs.  These paintballs are less than half the size of a standard paintball! 
Smaller paintballs = lower impact.
Do you see where the name comes from yet? 
Low Impact paintballs shoot just as far and accurate as a regular paintball, while having a significantly softer impact.
Why Do All Ages Prefer Low Impact?
Low Impact allows groups of all ages to play together!  We find that players who choose Low Impact are usually celebrating things such as:
It helps these mixed groups who don't consider themselves to be "pros" get outside and onto the field without worrying about coming home with too many bruises.
Worried about coming home with a few bruises and welts?  Check out our other blog post about the type of gear you should wear!
Another benefit to the smaller sized paintball guns is the lighter design which makes maneuvering on the field much easier for smaller/younger players.
Non-Staining Paint
Did we mention that we use an environment-friendly paintball?  These paintballs are oil-free and won't stain your clothing!
We strive to provide an excellent Paintball experience for all players regardless of age, skill level, or prior knowledge.  
Offering a Low Impaction Option helps us accomplish this. 
Would you rather play with the standard size?
No problem! We have both options available! Just make sure everyone in your group is on the same page.  We do not cross different sizes in the same group.
We set up our rental groups with Low Impact equipment by default to provide the best experience.  Just let us know when you book if you'd like the standard .68 caliber equipment and we'll make sure to have it ready for you!